Donald McDonald House Charities Japan and Hanazono Kintetsu Liners have been partners since 2022. We have implemented many projects together and have received a great deal of support.
This page documents the path we have taken together.
January 22, 2022 Partnership Agreement Signing Ceremony
Donald McDonald House Charities Japan Foundation
The Ronald McDonald House is a second home for children and families who are hospitalized far from home. It is a stay facility for families accompanying their child for treatment.
Provides a home away from home but with a family-like atmosphere close to the hospital. Meals can be prepared by the house, and cleaning and laundry can be done by the guests.
---
2022.01.22 Partnership agreement signing ceremony
On Sunday, January 22, the Hanazono Kintetsu Liners held a partnership agreement signing ceremony with Donald McDonald House Charities Japan (DMHC) at the Hanazono Rugby Stadium 2019 Room in Higashi-Osaka City.
Conducting charity activities at host games organized by Liners
Since the signing of the partnership agreement on January 22, 2022, we have started donation activities and support for host games and invitations to games for parents and children using DMHC.
The charity booth has become an integral part of the Liners' games.
2022.04.30 Donald McDonald House Smile Match to be held
The NTT Japan Rugby League One 2022 D2 Standings Round 2 "Hanazono Kintetsu Liners vs Mie Honda Heat" match held on Saturday, April 30, was held as a "Ronald McDonald House Smile Match".
All players wore socks named after "Smile Socks" during the game.
2022.04.29 Liners' actual-use jerseys and other items were exhibited at the "Donald McDonald House Charity Auction".
Jerseys, training wear, and practice balls used during the 20-21 season were offered with the players' autographs. Donations collected at the auction were used to fund the operation of the Ronald McDonald House.
2022.11.06 On "Blue Mac Day," Liners players participated in a fundraiser for the Ronald McDonald House Foundation.
On November 6, 2022, "Blue Mack Day," the Liners held a fundraising event.
At McDonald's Higashi Hanazono store, we called for donations at the storefront. We had originally planned for three players to participate, but many players voluntarily joined during the activity. Not only fans but also members of the local community cooperated.
On the same day, HANAZONO EXPO 2022 was held at Hanazono Central Park. Many players and staff members, including head coach Mizuma, worked at a charity booth to collect donations.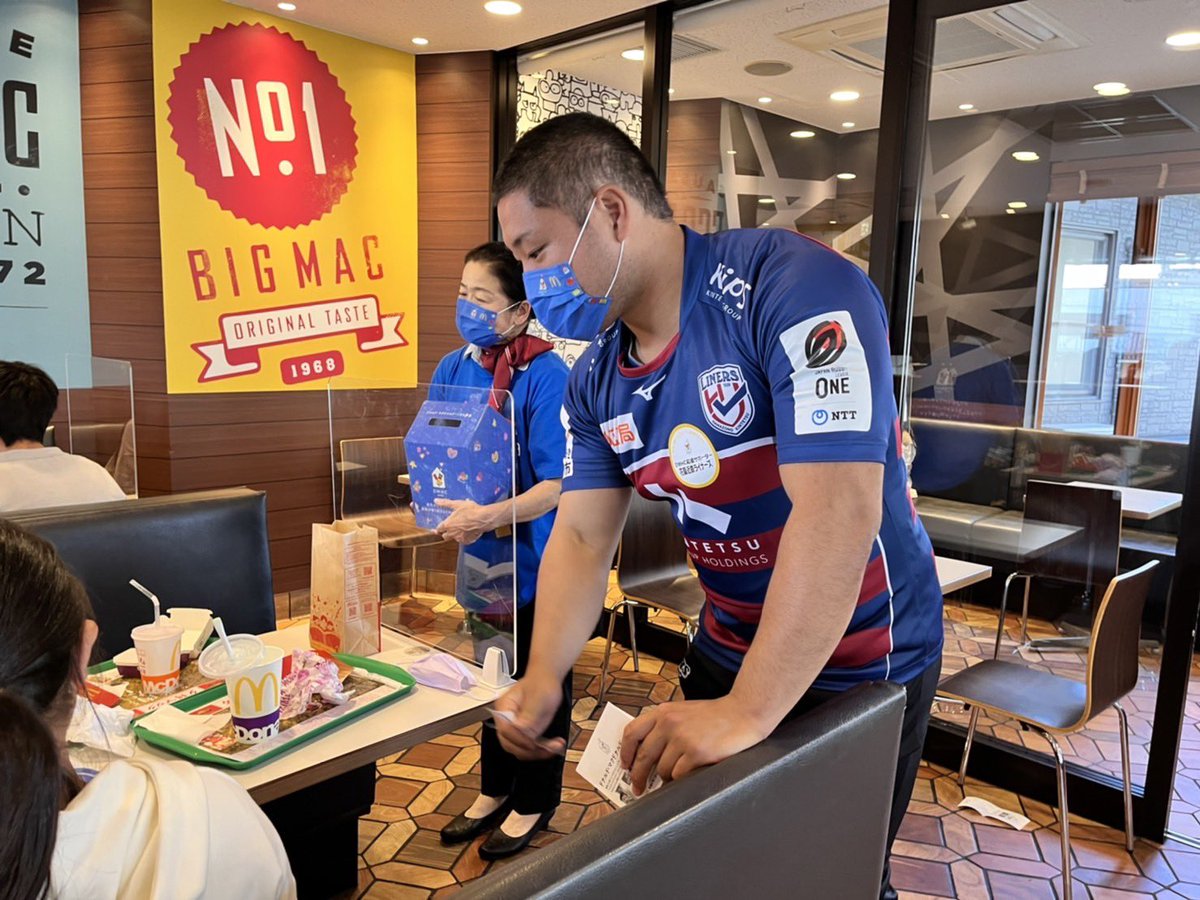 At McDonald's Yoshida branch, Torataro Takahashi patrolled the tables. Many customers supported the donation.
2022.11.08 Visited "Ronald McDonald House Osaka Kento" and "National Cardiovascular Center
Visited "Ronald McDonald House Osaka Kento".
Yeremiah Mataena, Keitaro Hitora, Jun Yokoi, and staff member Masaaki Murashita, along with Yeremiah's wife, Nua, whose relatives had previously used the Ronald McDonald House.